Design the Perfect Fabric Design with the Masterful Execution of this Fabulous Quilting Toolkit!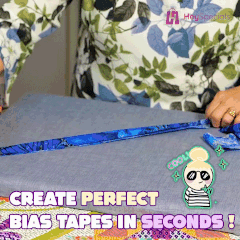 The Bias Tape Fabric Maker Kit Set features a unique set of tools for your fabric works. They are designed to perform fabric binding with incredible ease and speed. Now all the fantastic slasher fabric projects you want are easily within your reach. You can get varying sizes of folded fabric strips with this kit and no more ironing is needed. You can achieve design tasks such as binding, runners, trimming, and placemats. This kit is massively useful for all your quilting work such as leathercraft, tailor patchwork, and DIY sewing.
For Smarter and More Efficient Fabric Working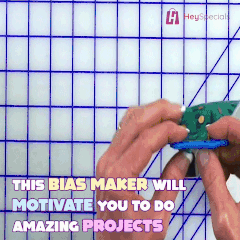 These jelly sasher tools feature tools of various sizes to ease your work. To use them, you can cut fabric strips of any suitable width and fold the ends toward the center. You can then insert the fabric strip through the sasher tool before pulling. You will be able to create a perfect binding when the fabric strip goes through the sasher tool. This can be achieved when you iron the folded fabric stip when it is folded by the sasher tool. With this jelly roll sasher, you can quickly and easily fold strips of jelly roll with a layer of wadding or batting. This saves you the need for ironing strips. All you need to do is feed the folded strips through the sewing machines and do your basting. This kit is ideal when you want to create all kinds of fabrics such as placemats, mats, bags, runners, bowls, and rugs.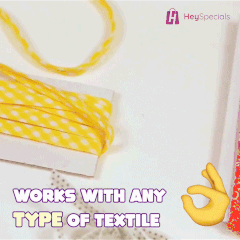 Features:
It incorporates a whole range of tools to ensure you are fully supplied. This includes binder foot sewing quilting awl binding tools and presser foot sewing machine quilting pins. It also includes folding fabric and biasing strips of storage chains.
It helps you to work quickly in producing the ideal strips for use in jelly roll bias tape makers. You can easily cut off one inch wide fabrics when you need a 1/2 inch finished sashing. You can then put it through the sasher of 1/2 inch before applying an iron.
It comes with a variety sizes to ensure you can meet your specific needs. This includes sizes such as 1/8", 1/4", 1/2", 3/4", 1", 1-1/8", 1-1/4", 1-1/2", 2 ", 2-1/2".
The bias tape maker applies to many fabric works. This includes tailor patchwork, leathercraft, DIY sewing. You can create bindings and trims using the jelly roll bias tape. So you can design various artifacts such as runners, mats, bags, rugs, and more.
Technical Specifications:
Material: Plastic, Metal
Color: Multicolor
Hole Size:

1/8"", 1/4"", 1/2"", 3/4"", 1"", 1-1/8"", 1-1/4"", 1-1/2"", 2",

2-1/2"
包装包括:

1 x 偏置胶带织物制造商套件