This is the Nevus Skin Tag Remover With this kit you can easily remove skin tags and any similar skin problem absolutely pain-free!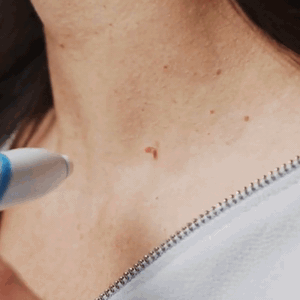 It removes skin tags quick and easy! Just apply the skin tag removal device on any skin tag on your body and you'll see them slowly fall off and away!
Get rid of pesky skin tags and regain your confidence! Get your flawless skin back with the auto tag removal kit. In just one application, you can get back to looking and feeling your best!
It's super easy to use! Get rid of your skin tags in just 6 easy steps! So you can immediately get rid of those annoying skin tags in no time!
It also has a wide range of uses! Not only does it get rid of skin tags, but it can also remove warts and large moles easily without any additional steps!
Use it on any part of your body! From your face to your neck and even down to your knees. It can remove any skin problem in any part of your body that has it!
Get back your smooth skin in just about 10 days! The Auto Tag Removal Kit will remove blood flow to the skin tag in the first 4 days! The skin tag then dries up in days 4 to 6. It gets hard and falls off in days 7 to 10.
Specifications:
Dimensions: Nib( 4-8mm)
Package Includes:1 x Nevus Skin Tag Remover