Round Puzzle 1000 Piece Jigsaw Puzzle designed by artist Francis Deroa. The painting represents the imaginative idea of gradients of color in a spectrum. This is a futuristic piece designed for little scientists in your house or older kids with a flair for space and fiction. The 1000-piece jigsaws offer an enjoyable challenge to all puzzle enthusiasts
This scenic puzzle is a great gift for those who like colors.

Wooden puzzle pieces are a more tactile puzzling experience

This jigsaw puzzle is made of laminated plywood

1000 piece jigsaws have a more challenging difficulty level

This jigsaw puzzle measures 20" x 27"
Bringing Family Together
Putting puzzles together is a timeless activity that can bridge generations. No matter the age working together with family to solve a jigsaw puzzles is extremely rewarding. Not only do you have a chance to work together to accomplish something, there is lots of time to talk with one another & grow closer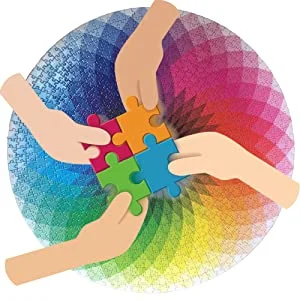 Perfect Gift
Let your children feel the fun from the jigsaw puzzle and bring them a smile.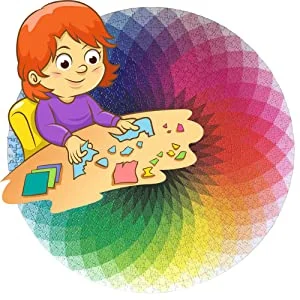 Additional Information.
Material: Wooden

Puzzle: One Piece(letter zoning)

Size: 50 x 75 cm

Thickness: 2 mm

Specifications: 1000 pieces/set

Package: Gift box
Benefits Of 1000 Piece Jigsaw Puzzle Toy For Adults and Kids
The Original puzzle exercises the left and right sides of your brain at once

It improves your short-term memory and your visual-spatial reasoning

The puzzles are a great meditation tool and stress reliever

Jigsaw puzzles are a great way to connect with your family

If you need some alone time or would like to concentrate, The Original Puzzle is the way to go.

You'll live longer if you puzzle regularly!
How Long Does It Take To Do Jigsaw Puzzle:
On average, you could expect it to take anywhere between 3 to 10 hours, depending on the type of the puzzle, among other factors.