Great news to all the donuts lovers out there! Now you can make your own donuts at home!
Our new Easy Donut Maker is a real breakthrough in the world of deserts. It is a tool that will help you to make perfect looking donuts with ease and in no time.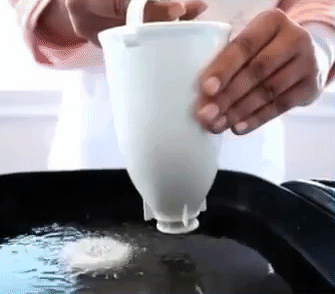 This tool is easy to use. Easier than making pancakes! Just pour your mix into the maker, press the button, and there you have your perfect donut!
Our Donut Maker is made of premium plastic that makes it strong and durable. It won't break even if your kid accidentally drops it while being a perfect cook, just like you!
Moreover, the material is non-toxic and you can safely prepare food in it with no worries. The Donut Maker is lightweight and anyone can prepare perfect desserts with it.
The Donut Maker is easy to clean in no time and ready to be used again!
How to Use
It's fun and hassle-free! To make the perfect donuts, just follow these 3 simple steps:
Mix the batter just like pancakes.

Heat the oil.

Hold the dispenser over the hot oil and squeeze the handle.
Easy Donuts recipe
350g flour, 35g sugar, 10g baking powder, one packet of vanilla sugar and 250ml water. Combine all ingredients into a dough mix and fry the donuts ready in a little cooking oil. Beautify your donuts with a variety of toppings: sugar and cinnamon, chopped nuts, powdered sugar, lemon icing or chocolate icing.
Bon Appétit! 🍩 🍩