Automatic shuffler, battery operated electric shuffler for UNO, Texas Hold'em, home card games
Product size 21 x 12 x 10 cm; 427 g
Color Black
Material type Plastic
Requires 4 "AA" batteries (not included in the scope of supply)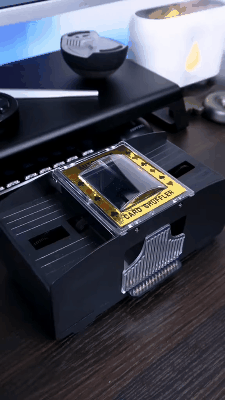 About this project
1-6 Deck Casino Automatic Card Shuffler for UNO, Texas Hold'em, Poker, Home Card Games, Blackjack, Home Party Club Game
This useful shuffler puts an end to discussions about whether cards are being mixed correctly. You can now avoid annoying discussions about fraud or undermixing.

Easy to use: Easy to use with just one button, easier and less effort than manual mixing. You can insert the cards into 2 compartments, they are mixed and come out of one compartment. The cards are automatically mixed at the push of a button.

Battery operated: The automatic card mixer works electronically with 4 AA batteries (not included) and only the mixer is included in the package.

Versatile use: This card mixer is flexible enough to use standard size cards (9 x 6.5 cm) and up to 2 decks of cards. Ideal for poker, Texas Hold'em, blackjack and card games.

DURABLE MATERIAL: Our electric poker shuffler is made of high quality plastic, durable, very efficient and labor saving. If you have any questions, you can contact us by email and we will give you a satisfactory answer within 24 hours.